​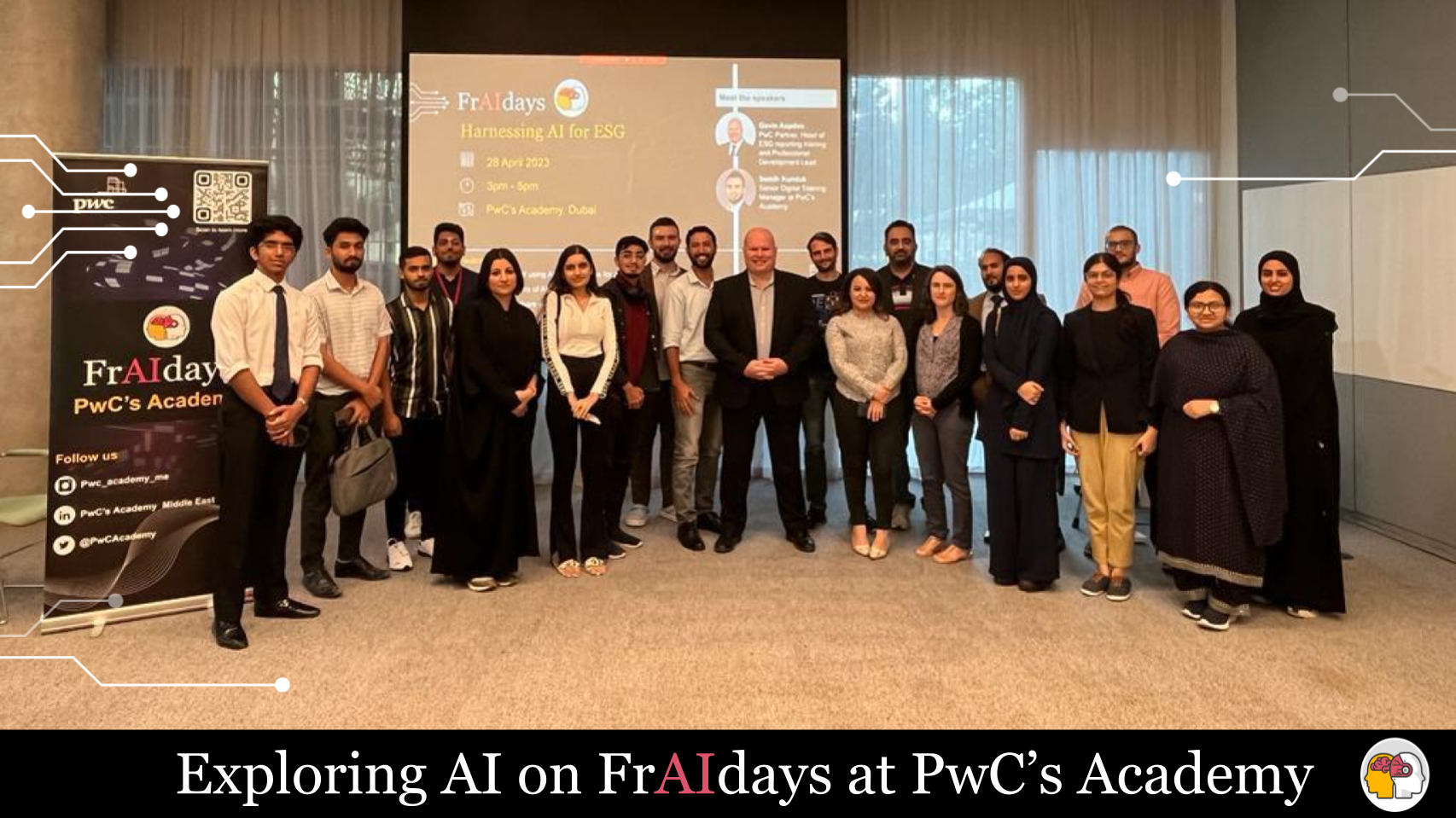 ​
ChatGPT, Bard, GenerativeAI - trending terms that must be a part of your vocabulary today. 
We have built a community of learners to explore and understand the world of AI with FrAIdays, a series of complimentary workshops on AI for digital enthusiasts to upskill, network and learn collaboratively. 
Over the past few months, 250+ professionals and students from diverse industries such as hospitality, real estate, travel and tourism, healthcare and manufacturing have upskilled in these engaging and practical FrAIday workshops.Participants from across the region attended these hybrid sessions, with clients from Emaar, HSBC, ADNOC, DIFC to name a few.
Participants explored the transformative potential of digital tools, the democratisation of AI technology, the impact of AI on the labour market, the environmental benefits of AI adoption, and the importance of establishing AI governance within businesses while mitigating associated risks. 
Semih Kumluk, PwC Academy Senior Manager and Digital Upskilling expert covered a diverse range of popular topics such as ChatGPT, AI literacy, Ethical AI, Harnessing AI for ESG, Responsible AI, Leveraging AI for HR, and more. Guest speakers, including Maria Luciana Axente, Responsible AI leader from the UK, Gavin Aspden, PwC Partner, and Brian Sankey, Manager from the Tomorrow Today team at PwC graced the sessions and added valuable industry insights and expertise, supporting the goal of spreading awareness and education to our community. 
"The idea behind setting up this community was to give people a platform to build on their knowledge and share ideas on some of the key topics around AI trends emerging in the market. AI is something I am truly passionate about, and I believe it can have a positive impact on our society. I wanted to build this community to help create more awareness of the opportunities and challenges that come with AI. The positive outcome of these workshops further indicates the importance of these topics and how we need to keep the discussions going for a more significant impact." said Semih.
You too can be part of this community and engage in insightful conversations! Just fill up this form and we will keep you posted on the calendar of the upcoming FrAIday workshops.
​
We are a community of solvers combining human ingenuity, experience and technology innovation to deliver sustained outcomes and build trust.
It all adds up to The New Equation.